UPDATE | 2017 Justice for All Campaign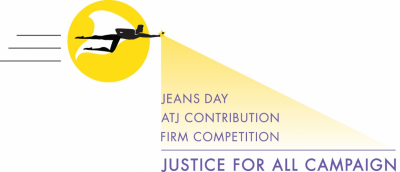 Don't miss the champions of justice firm competition April 10-21, 2017!
Firms with the highest overall contribution and the highest overall percentage of contributing attorneys will be recognized in the Texas Bar Journal and at the Justice for All reception in October.
Firm size categories are as follows:
•    boutique (1-10 attorneys);
•    small (11-25 attorneys);
•    medium (26-75 attorneys); and
•    large (75+ attorneys). 
Few causes are more worthy than Access to Justice.  Firms raised more than $170,000 to support civil legal through the firm competition last year! 
 Justice for All Jeans Day April 14.
Slip on those denim duds and strut your stuff for ATJ! 
ATJ Contribution – You're On Time Anytime.
Make an ATJ contribution on your dues statement through your MyBarPage, the Commission's Donation page, in person or by mail.
Your contribution can mean security for survivors of domestic violence, protection from exploitation for the elderly, medical benefits for children with special needs, and so much more. 
Last year, the Justice for All Campaign raised more than $1.3 million to help low-income Texans with their basic civil legal needs.   Contributions are distributed to civil legal service providers across the state that help low-income Texans. 
Save
Save
Save
Save