UPDATE  |  By Texas Access to Justice Foundation
A recent study by the University of Texas at Austin School of Social Work revealed that two in five women and one in five men in Texas have been sexually assaulted at some point in their lifetime. Only 9.2% of victims report their experience to law enforcement.
As the nation and Texas recognize April as Sexual Assault Awareness and Prevention Month, survivors of sexual assault in Texas now have access to a vital network of free legal services through Legal Aid for Survivors of Sexual Assault (LASSA). The LASSA Network is a collaborative effort of nine legal aid organizations partnering with domestic violence shelters, rape crisis centers, and colleges and universities throughout the state for community outreach, education, and referrals.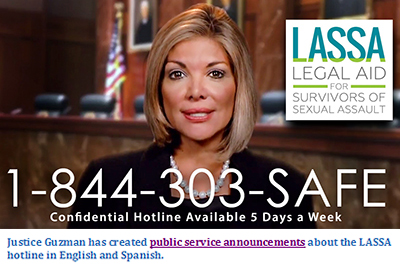 "As survivors of sexual assault begin to rebuild their lives, legal issues may arise that affect their safety and well-being," Texas Supreme Court Justice Eva Guzman, the Court's liaison for access to justice issues, said. "Help is a confidential phone call away for Texans who qualify for legal aid." 
The network includes a statewide LASSA hotline [1-844-303-7233 (SAFE)] that connects survivors with attorneys who can assist them with a variety of legal issues, including protecting their safety and privacy, housing, and family law needs. Operators are available to answer calls Monday through Friday, from 9 a.m. to 7 p.m.
Since the LASSA Network's inception, legal aid has opened nearly 4,500 new cases involving survivors of sexual assault. The LASSA Network provides survivors of sexual assault with a wide range of free legal services from general advice to holistic, direct representation in civil legal matters stemming from sexual assault. Survivors can face many legal issues including protecting their personal information, finding a new and safe place to live, protecting their families, feeling secure at school or work, and applying for public benefits.
The LASSA initiative was made possible through $10 million in funding from the 84th Texas Legislature for the 2015-2017 biennium. The funds are distributed by the Texas Access to Justice Foundation to grantees across the state.
For more information, please call 1-844-303-7233 (SAFE) or visit http://www.teajf.org/grants/LASSA.aspx.
To view Justice Guzman's public service announcements, please visit https://www.youtube.com/user/TxAccesstoJustice.
---
1. Busch-Armendariz, N.B., Olaya, D., Kerwick, M., Wachter, K. & Sulley, C. (2015). Health and well-being: Texas statewide sexual assault prevalence. The University of Texas at Austin, Institute on Domestic Violence & Sexual Assault: Austin, Texas
Save
Save
Save
Save
Save
Save
Save
Save
Save
Save
Save
Save
Save
Save
Save
Save
Save
Save
Save
Save
Save
Save
Save
Save
Save
Save
Save
Save
Save
Save