Wednesday, December 28, 2016
UPDATE
Elena's son, Jose, has cerebral palsy and just turned 18.  School professionals told Elena that she needed a legal guardianship to participate in her son's Admission Review Dismissal (ARD) meetings, where educators and specialists develop the individualized education program (IEP) for Jose's special education needs.
Without legal guardianship, she would not be permitted to participate in the meetings.   Jose can read and write, but his communication is delayed and people have a hard time understanding him.  He relies on his mother to help him understand and communicate, but he does not want to give up his independence.
According to the Office of Court Administration, about 51 percent of people under guardianships have an Intellectual/Developmental Disability (I/DD).  Regrettably, many of these people are prevented from making decisions about their own lives and no longer have control of their assets or living situations.
As a result of the 84th Legislative Session, Texas became the first state to pass legislation, through HB 39 and SB 1881, formally incorporating Supported Decision-Making agreements and guardianship reform measures.  The new legislation provides people with an I/DD the option to receive assistance from a trusted caregiver to make important decisions without giving up their rights.
Elena learned of the guardianship alternatives when she attended a presentation offered by legal aid at her son's school.  She discovered how advance directives and the new Supported Decision-Making agreement could allow her to still help her son without taking away his rights.  Elena and Jose made an appointment to meet with a legal aid attorney, who explained all of the available options.  Jose decided on a Supported Decision-Making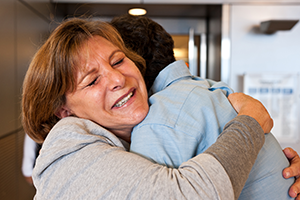 Agreement and named his mother as his supporter.
Elena was so relieved that she didn't have to get a legal guardianship over her son to continue to help him.  Jose is looking forward to having a job after high school and achieving his dreams on his own terms.
Last year, legal aid handled 1,000 guardianship cases.  Success stories like these fuel the passion to fight on behalf of low-income Texans so that everyone can live a meaningful life, regardless of income, age or ability.
Make a donation today to support life-changing differences like Jose's made possible by legal aid.
UPDATE | By Harry M. Reasoner
Save
Save